CENTRAL Heating Controls
Heating controls enable all elements of heating and cooling to be controlled and managed by a central easy to use device. This helps home owners to save money and increase their comfort in the home by controlling the level of heating where it is needed most.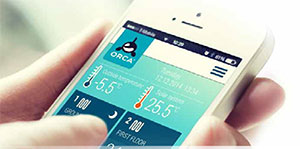 Grants now available
There are government grants of €400 now available for home owners who install central heating controls in their home. Call 0868517555 to find out more and to see if you are eligible for a grant.
Simple to Operate
We supply simple to operate sensor and touch screen interface wireless heating controls, and install these systems in homes and business premises throughout Ireland.
Phone 086 8517 555 now for a quote.
Functions of Central Heating Controls
Zone Labelling
Zone designations can be set up and clearly labelled, with room settings to enable users to vary the room temperature.
Stop Facility
Disable heating in rooms that are not being used, e.g guest bedrooms. This feature will help you to save money on your heating bills.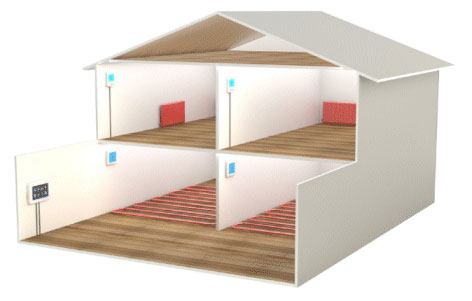 Comfort Features
Zone Temperature
Heating controls offer independent temperature control per zone E.g. Bedrooms 20°C, Baby Bedroom 24°C.
Programmable Timer
Individual zone scheduling to allow homeowner to create own personal settings.
Frost Protection
The system protects against frost even when a zone is not in use.
Reliability Features
All heating controls devices are individually tested prior to shipment which dramatically reduces fall out rates and consequently improves product on-site reliability.
12v Operation
No Batteries - No Replacing, No Recurring Cost, No Leaking No RF issues - 100% reliability.
Health & Safety
Call cabling to in-room devices are all low voltage (12v)
Easily Adapted
The control system is configurable, which enables the system to be easily adapted to integrate additional site specific client requirements.
More Information on heating controls?
Feel free to contact us on 0868517555 or complete our contact form for more information.
Remember to download our free heating controls catalogue.