Underfloor Heating sYSTEMS
Sweeney Renewables offer quality underfloor heating systems and installation for new and existing homes in throughout Ireland. Underfloor heating systems are a cost effective solution for heating your rooms and increasing comfort in your home.
Why Install An Underfloor Heating System?
Most common heating systems such as radiators are convectional heating systems. Convectional heating systems blow hot air into a room. As hot air naturally rises, it is common to find with these systems that the floor will be the coolest part of the rooms while the hot air will be contained towards the ceiling. This hot air creates drafts as the hot air rises and is mixed with the cold air. The result causes the room temperature to vary from being cold to becoming too hot and in some instances causes uncomfort in your home. Underfloor heating radiates upwards meaning that it warms all the cool air. This means that you can get consistent temperatures in all the rooms in your home.
What are the Benefits of Underfloor Heating?
Cost effective heating solution with low energy consumption.
Maintenance Free system that is not obtrusive.
Provides even heat distribution for thermal comfort in all rooms.
Can be easily controlled by a Thermostat or heating controls.
Underfloor heating can be installed in new-builds or retro-fits
How is underfloor heating Installed?
Below are some examples of our underfloor heating installations.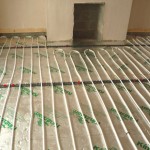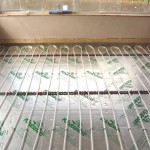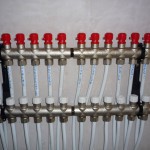 From the images above you can see that installation in a new build is relatively straight forward. The Underfloor piping is laid out on top of insulation before the floor screed is applied. The floor screed covers the pipes so the system is unobtrusive. Underfloor heating is virtually maintenance free and can be cleaned with a system flush.
Connect Your Heat Pump & Save Money!
You can save more money on your heating bills when you connect an air to water heat pump to your underfloor heating system. This will ensure that you have a constant supply of hot water to circulate through the underfloor heating pipes to provide all year round floor heating at a low cost.
Want to install this system? Need more information?
Feel free to contact us on 0868517555. Alternatively, you can fill in the contact form to request a call back.