Central Heating Solution For Homes
Our efficient cental heating solution can be installed in new or existing homes.
It is also an excellent choice for spatially confined buildings, condos, adaptations of existing energy systems and new constructions.
The inverter system with the aesthetic internal unit also enables installation in rooms equipped above standard.
Fill in the form or phone us for your FREE catalogue.
Decorative Installation, Even in Living Areas!
Due to their certified quality and excellent design, Orca central heating systems can be installed in living quarters, not only in boiler rooms and cellars, as it is with conventional HP.
This system does not take up a lot of space and is therefore a practical solution for spatially optimised rooms. The external unit can be placed practically anywhere.
Lower Investment Costs Due To:
• Simple installation, no digging, drilling or affecting the environment.
• Avoiding the cost of preparing a boiler room.
• Subtracting maintenance costs, due to no boiler room, furnace or storage place.
• No costs of cleaning and maintaining the chimney vanish.
• No need for an additional heat container.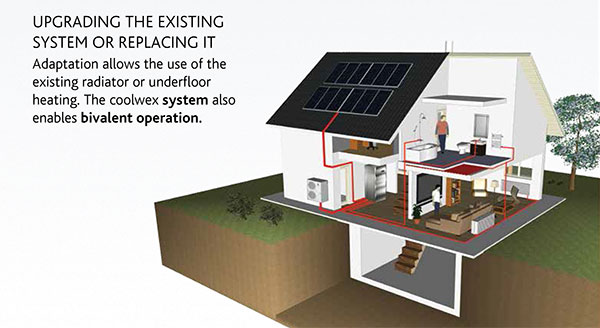 Maximum Comfort
Intelligent, weather-guided regulation promises that the device does everything on its own. It precisely adjusts its operation according to both external and internal temperatures to achieve a single goal of providing heating that saves most of energy.
Customer Testimonial
"We went with Sweeney Renewables and the Orca air to water heating system as our primary source of heat in our two storey house. We are very happy with this system as it provides us with constant heat and water without the need of oil or solid fuel. It is costing us €640 to run for the year and we found the after service was second to none.
I found Frankie to be very professional and knowledgeable in his work and I have no problem recommending him."

Gregory and Roisin
More Information?
Feel free to contact us on 0868517555 for further information on cental heating systems for your home.
Alternatively, fill in our contact form and we will get back to you as soon as possible.