Orca System Installation in O'Briens Sandwich Bar Case Study
The team at Sweeney Renewables recently installed an Orca air to water heat pump in the O'Brien's Sandwich Bar in Liosban, Galway.
What the branch owner had to say: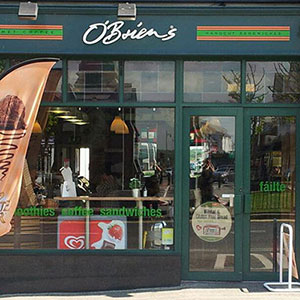 The following is the feedback given by the café owner Aongus Mc Guinness:
"Thanks for the installation of the Orca air to water heating system. We have found it to be excellent. It has taken hot air from our kitchens and also produces cool air into the restaurant. This has helped us reduce the amount of time we have our air conditioning on and hence has reduced our electricity bills. Our bills have fallen by around the 10% mark including The installation of the washer dryer. It has also meant we always have a plentiful supply of hot water which was always running out at busy times.
Frank and his team installed everything in one day which meant no disruption to our operation including taking care of all the plumbing. If you have the space for the Orca system I would highly recommend it."
We have also supplied heating systems to the O'Briens branches in wexford, Waterford and Cork.
We have an exclusive offer to the O'Briens Franchise
If you are the owner/manager of an O'Briens Sandwich Café, Sweeney Renewables offer and exclusive offer on our Orca heat pumps for your franchise.
To get your special quotation, phone Frankie on 0868517555 or fill in our contact form.